Skip to main content
Menu
Home
Advertise
News
Topics

Assessment
Business & Finance
Facilities
Policy & Compliance
Security
Teaching & Learning
Technology

Magazine

Current Issue
Issue Archives

Special Reports

Makerspaces
Professional Development

Sponsored Content
Web Seminars
Solution Showcase
New Product Showcase
Events
Recognition Programs

Schools of TechXcellence
Districts of Distinction

Jobs
Press Releases
White Paper Library
You are here
Home > Supervisors Opinion > Social Media: Guidelines for School Administrators
Social Media: Guidelines for School Administrators
A lesson in doing the right thing for students and your staff.
District Administration, July/Aug 2012
Social media tools like Facebook, Myspace, Instagram, Google+ and Flickr are potentially exciting learning and teaching tools that can help teachers and students make connections to ideas, skills and concepts in a 21st-century learning environment. However, social media are getting a bad rap in education. Some students use the tools in ways that pit their First Amendment rights against their responsibilities as students in brick-and-mortar schools.
In 2006, the American Civil Liberties Union filed suit against the Hermitage School District in Pennsylvania after the district suspended student Justin Layshock for creating an unflattering online parody of his principal. In 2007, a federal judge determined that the suspension was unconstitutional, and in 2010, a three-judge panel of the Third Circuit Court of Appeals ruled that the district violated the student's First Amendment rights.
Clearly, schools must consider the rights of students to freedom of expression. Teachers mistakenly think they too have carte blanche First Amendment rights when it comes to their use of the Internet and social media. That is not the case. Teacher speech is more likely to be protected if it's about matters of public interest, but there is a nexus between teachers' private speech and their employment at school. Private speech should not unduly disrupt school activities.
Michael Simpson, NEA assistant general counsel who specializes in the First Amendment, writes in "Social Networking Nightmares: Cyberspeak No Evil," "First, let's debunk the free speech myth: Many teachers believe they have the absolute First Amendment right to post anything they want on social networking sites, including party pix and diatribes about the boss. After all, they're on their own time and using their own resources."
The courts have determined otherwise. Unfortunately, many teachers have been dismissed because of inappropriate posts or pictures on Myspace and Facebook. A high school English teacher was suspended for blogging about comments she wanted to make on student report cards. Some comments included "Nowhere near as good as her sibling. Are you sure they're related?" and "Weirdest kid I've ever met." Unfortunately for her, students and parents shared her blog on Facebook and Twitter, causing a stir that led to her suspension.
Probationary teachers can be dismissed without cause, and ill-conceived comments on social networks have ruined nascent careers. The landmark Pickering v. Board of Education case established that probationary teachers can be fired without violating their First Amendment rights even if they post typical silly comments about sex and booze that many young people post on Facebook.
Young teachers have grown up in the cyber age and often do not recognize the boundaries between work and play that their more mature peers observed. Boundaries are more easily violated with social networking technology. What was once private is now very public.
Protection from Predators
There are other boundaries that must not be crossed. Schools have a fundamental right to protect students from predators. When those predators are school staff who use texting and private conversations on sites like Facebook to bring vulnerable students into their confidence, school leaders must take action.
Schools need to provide training to their employees about social media for professional and private use. This is especially important for new employees who have grown up with social media and who work directly with students. Schools must devise a policy first to guide this training. While grounding practice in policy makes sense, however, developing a policy is fraught with potential obstacles.
NYC's New Policy
From January to November 2011, the New York City Department of Education recorded 69 cases of inappropriate teacher-student behavior, much of it initiated via social media. In response, the New York DOE released its first social media policy on May 1, which prohibits the use of social media for private conversations between students and staff, including teachers and classified support staff. The goal is to prevent inappropriate contact between staff and students and to keep social networking relationships professional in nature. Interestingly, this policy does not differentiate between school-based and private social media platforms to conduct school business. Teachers can use private sites like Google+ and Facebook to conduct school business, but if inappropriate contact with students takes place on those sites, disciplinary action can be taken.
The New York policy seeks to set reasonable limits on the technology itself, as well as teacher behavior in relation to the technology. It's quite possible that the new policy will face legal challenges, as many feel that the Internet and social media should have very few limits.
Trial by Fire in Missouri
In 2011, the state of Missouri tried to prevent all use of social media by school employees. Parents and legislators pointed to the very real threats posed to students by teachers who misuse social networking tools to cultivate inappropriate and illegal relationships with vulnerable students. Parent advocates argued that a teacher would never be allowed to sit alone in a classroom with a single student, and shut the door and close the blinds so that nobody could see them. This is what happens in private and exclusive exchanges between students and teachers on Facebook and other such sites, they argued.
In the spring of 2011, the Missouri legislature passed the Amy Hestir Student Protection Act, which prohibited teachers from establishing, maintaining or using a "non-work-related Internet site which allows exclusive access with a current or former student." Amy Hestir was a 12-year-old student who gained attention when she testified before the Missouri House Education Committee that she had been sexually abused by a junior high school teacher. According to a Student Press Law Center report in the July 2011 article, "Free Speech Concerns Could Sink Missouri's Social Networking Ban for Teachers": To [state senator Jane] Cunningham, completely blocking private Internet messages between students and teachers, even those relating to schoolwork, is needed. "A lot of sexual relationships start with the most innocent text message: 'How do I do this math problem?' or 'I'm going to be late for practice,'" Cunningham said. To the state senator, this ban is nothing more than a way to avoid parents being "cut out" of student-teacher contact and protect both teachers and students. While well intentioned, the law took aim at social media tools themselves and appeared to ban the use of any such tool that allows a private conversation between a teacher and a student. It was unclear if school-related conversation was allowed. The ACLU and the Missouri State Teachers Association filed suit to block the law, claiming that it violated teachers' First Amendment rights. An injunction was filed, and a judge ruled that the breadth of the law had a "chilling effect" on the free speech of teachers.
It failed to pass constitutional muster on two counts. First, it was broad, as it prohibited a teacher from using any Web site that would allow educators to contact students privately. In addition, it appeared to ban social networking between teachers and current and former students but didn't make clear what this meant. The ACLU attorney in the case, Tony Rothert, argued that the bill silenced a lot more speech than was required to attack the problem.
Ultimately, the law was repealed, and the legislature ordered individual school districts to develop their own policy for social media by March 2012. Many are using a sample policy developed by the Missouri School Boards Association. This policy does not ban the technology specifically, but establishes that teachers and school staff must observe appropriate boundaries with students. The focus is on teacher behavior, and the policy provides examples of behaviors that are not appropriate and that violate professional boundaries with students. For example: "Staff members are expected to maintain courteous and professional relationships with students … and provide for … the maintenance of physical and emotional boundaries with students …"
Toward that end, the sample policy says that staff members may not "knowingly allow students access to the staff member's personal social networking website or webpage that discusses or portrays sex, nudity, alcohol or drug use or other behaviors associated with the staff member's private life that would be inappropriate to discuss with a student at school."
Through a trial by fire, guidelines in Missouri now seem to strike a more reasonable balance between teachers' rights to free speech, the protection of students, and the use of social media as a learning tool that is viable for bona fide school business. However, the Missouri State Teachers Association has a competing policy, so the matter is still unresolved.
Developing a Solid Foundation
In developing a policy, school leaders should answer the following questions:
How can schools clearly define legitimate school business that can be conducted between teachers and students on school-based sites and social media?
What are appropriate physical and emotional boundaries that staff should observe with students?
How can staff avoid misusing social media in the conduct of their professional interaction with students?
How can staff keep their private speech separate from their interactions with students on private and school-based sites, including texting and cell phones?
How can educators avoid putting a chilling effect on the use of social media as a learning and communication tool?
Electronic communication with students should always be TAPed:
Transparent—maintain openness, visibility and accountability
Accessible—consider all electronic communication to be a matter of record
Professional—use correct grammar and tone, choose appropriate subject matter and choose words that are courteous
As the NEA's Simpson puts it, "If you're not sure, show your Facebook page to your mom. If she's got any concerns or problems, then so do you."
Eamonn O'Donovan is a former principal and an assistant superintendent of human resources in southern California.
More content like this
Pass This Along: Technology Solutions for Busy School Administrators
The New IDEA Money for Special Education in the Federal Recovery Act
Maximum web management for K12 schools
Professional Development: A DA Special Report
Making professional development an impactful cycle of learning
High-quality PD for administrators, teachers and paraprofessionals
Lasting PD for literacy educators and classroom teachers
Professional development transformation
Integrating professional development tracking and teacher evaluation
Hands-on professional development that helps educators teach math and science
A best-practice checklist for professional development experiences
View full report
Jump to Navigation

Receive timely lesson ideas and PD tips
Receive timely lesson ideas and PD tips
Teacher Essentials

Whats New
Featured Articles
Early Childhood Resources
New Teachers
Back to School
Teacher Profiles
Voice of Experience

Administrators

Whats New
Hot Topics
Leadership Resources
Parent Newsletter Resources
Advice from School Leaders
Programs, Strategies and Events
Principal Toolbox

Lesson Plans

Whats New
Tools & Templates
Every-Day Edits
Worksheets
Lesson Library
5-Minute Lessons
Learning Games

Technology

Whats New
Article Library
Science, Math & Reading Games
WebQuests
Tech in the Classroom
Tech Tools
Web Site Reviews

Prof Dev

Whats New
Online PD
School Climate
Classroom Management
Positive Behavior Tips
Dr. Ken Shore: Classroom Problem Solver
Dr. Fred Jones: Tools for Teaching
Bulletin Board Resources

Printable Templates
Every Day Edits
Back to School
Holiday Lessons
Lesson Plan Library
WHAT'S NEW
Ditching Back-To-School Night Anxiety: A Guide For New…
Supporting Students with Autism: Notes from a School Ps…
Post-It Hacks for the Classroom
Administrators
General Archive
Top Admin Features
Focus On…Admin Topics
Leadership Library
Newsletters 'R Us
Partners for Success
Principal Files
Principal Ideas
Principal's Toolbox
Take Five
Education Headlines
Leadership
Staffing & Training
Problem Solving Archive
How I Handled
Wire Side Chats
Principal Blog
Principal Pointers
Programs of Interest
Principal Toolbox
Parent Involvement
Programs
Goals
Technology and Internet
Best Books for Teachers, Students and Parents
Best Books for School Leaders
Exceptional Events
Great Meetings
Instant Meetings
Morning Math
Funding
Financial Planning
The Grants Center
Grants Newsletter
Current Grants
Grants Articles
Grantwriting Column
More Grants Sources
Leadership
Staffing & Training
Admin Columnists
All Columnists…
Carlton Ashby
Pete Hall
Diane Hodges
George Pawlas
Paul Young
Creating Newsletters
School Newsletters
"quoted"
ABCs of Student Success
Caught on the Web
Fun Facts

[email protected]

Newsletter Clipart
Parent Newsletter Templates
Parent Pointers
Home
>>
Administrators
>>
Using Social Media: Tips for School Leaders

Using Social Media: Tips for School Leaders
Thanks to its partnership with publisher Eye on Education, EducationWorld is pleased to present these administrator tips related to The School Leader's Guide to Social Media , by Ronald Williamson and J. Howard Johnston.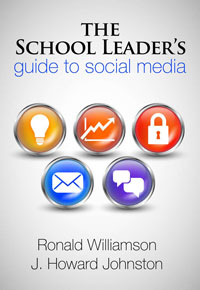 The authors discuss how social media can be used to increase productivity, aid professional development, and improve communication with students, families, and the greater community. For example, some schools use Facebook and Twitter to spread the word about school news and upcoming events. Others host blogs or wikis to share information about particular classes or school projects. The authors do, however, stress the importance of planning ahead before embracing any form of social media.
To get school leaders' take on the issue, Eye on Education asked a panel of administrators to respond to the following questions:
How do you currently use social media in your school? What tips would you give to other school leaders looking to apply social media tools to their school communities?
Eric Sheninger
Principal, New Milford High School, New Milford, NJ    
As a high school principal, one of the greatest benefits of using social media has been connecting with stakeholders by delivering real-time information on student achievements, staff innovations, athletic scores, meetings and important updates to our school Web site. Additionally, the school has benefited from an impactful public relations platform by delivering news and content through tools that our students, parents, and community members use on a routine basis at home. This powerful combination has led to the establishment of a positive brand presence.
Social media is also quickly evolving into the "go to" source for professional development. School leaders can now easily establish their own Personal Learning Networks (PLNs) based on their specific interests and needs. PLNs are free and available 24/7 from anywhere that has an Internet connection. My PLN incorporates Twitter, Google+, Digital Discussion Forums (Educator's PLN, Classroom 2.0, ASCD Edge, edWeb.net), social bookmarking services (Delicious and Diigo) and Pinterest.
The first step to using social media effectively is to determine your goals, set aside some time to learn, observe how other tech-savvy school leaders are using social media, and inform your community as to how these tools will be used.
James Davis
Principal, Knox Middle School, Salisbury, NC   
We use a texting feature that allows parents and other school stakeholders to sign up for text messages from the school. Once they are signed up, they receive text messages via their phone about school events, deadlines, field trips and other pertinent information. In addition, we are able to spotlight special students, teachers and others who deserve recognition.
I would suggest that any school using social media tools be very cautious about what they share and/or post. Furthermore, I would recommend that a school only allow one person, preferably the principal, to be in charge of the distribution of information.
Teresa Tulipana
Principal, Renner Elementary School, Kansas City, MO   
At Renner Elementary we embrace social media as a communication tool. Facebook and Twitter accounts keep families abreast of school events and happenings. Though at first we envisioned them as systems to provide calendar reminders, we found that Facebook is also a great tool for sharing our school's academic and behavioral focus areas in an efficient, fun and engaging manner. Recently a kindergarten teacher posted an Animoto highlighting pictures from Writer's Workshop, which communicated the importance of writing at our school. When the fourth grade completed Famous Missourian research projects, these were posted so parents were able to understand the value and importance of their research.
Social media has also allowed us to deploy important professional development content. Recently we used Blackboard, an educational social media tool, to host a virtual faculty meeting. Through Blackboard, staff watched a short Rick Wormeli video on defining mastery, and then responded to reflection questions on a discussion board. This flexible format allowed staff members to learn at a time that was convenient to their own personal calendars and increased engagement by assuring that every voice was heard.
David Elena
Principal, Tomahawk Creek Middle School, Midlothian, VA   
Here at TCMS we encourage our teachers to utilize social media whenever they can. We currently have a Facebook page for our school and our PTA. We have found that this was a great way to get messages out to parents and students. We have several teachers who use Edmodo to post discussions and assignments for their students, and they have reported remarkable success using this tool. One teacher told me she had 25 kids on Edmodo the day she started using it. We are looking at implementing a Twitter account next year to help get information out to the community. Although this is not a replacement for standard means of communication (Web sites, letters home, etc.), it is a great additional way to share information with our community.
As far as discipline issues go, we attempt to address those who cause the issues. The technology is here to stay, so we try to implement it where we can and deal with the trouble issues when they arise. Thus far, we have had no problems using these means of communication.
Miguel Guhlin
Director, Instructional Technology & Learning Services, San Antonio, TX   
There's a school in my district with a strong presence on Facebook and Twitter to inform parents and other school stakeholders about school announcements. We were feeling somewhat burdened by the time pressure to keep both of these social networks up to date. Now, we use a no-cost service known as Ping.fm to simultaneously update our campus Twitter and Facebook accounts.
Here's how it worked:
We set up our Twitter and Facebook accounts first.
We set up our Ping.fm account and installed the app on our smart phones.
We connected our Twitter and Facebook accounts to Ping.fm.
We posted photo and text updates to Ping.fm.
Now the principal, other campus administrators, and I are easily able to post pictures and text updates via Twitter and Facebook.
Education World ®    
Copyright © 2012 Education World
EW Lesson Plans

More than 1,000 FREE lessons.
Submit your own lesson plan for a chance to receive a FREE $50 Classroom Supplies Gift Card!
> Learn more!
EW Professional Development

PD content to get you through the day.
EW Worksheets

Worksheets: Download without a subscription.
Chatter
Tweets by @education_world
Trending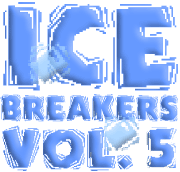 Icebreakers Volume 5: All-About-You Activities for the First Days of School
One of Education World's most popular features returns this year with 19 new getting-to-know-you icebreakers for the first days of school!
It's time to make a fresh start. You've done some summer reading on classroom management, and you're eager to try out some new ideas. You've learned from past mistakes, and you look forward this year to avoiding those mistakes. Most fun of all, the opening days of school are an opportunity to get to know a whole new group of kids!
What will you do during those first few days of school? What activities might you do to help you get to know your new students? What activities will help students get to know you and one another?
For the last three years, Education World has presented a new group of getting-to-know-you ideas — or icebreakers — for those first days of school. Here are 19 ideas — ideas tried and tested by Education World readers — to help develop classroom camaraderie during the opening days of school.
Opening-Day Letter
Still looking for more ideas? Don't forget our archive of more than 150 icebreaker activities.
Write a letter to your students. In that letter, introduce yourself to students. Tell them about your hopes for the new school year and some of the fun things you'll be doing in class. In addition, tell students a few personal things about yourself; for example, your likes and dislikes, what you did over the summer, and your hobbies. Ask questions throughout the letter. You might ask what students like most about school, what they did during the summer, what their goals for the new school year are, or what they are really good at. In your letter, be sure to model the correct parts of a friendly letter! On the first day of school, display your letter on an overhead projector. Then pass each student a sheet of nice stationery. Have the students write return letters to you. In this letter, they will need to answer some of your questions and tell you about themselves. This is a great way to get to know each other in a personal way! Variation: Mail the letter to students before school starts, and enclose a sheet of stationery for kids to write you back.
      Meg Basker, Harrison Elementary School, South Bend, Indiana
Stringing Conversation Together
Cut string or yarn into pieces of different lengths. Each piece should have a matching piece of the same length. There should be enough pieces so that each student will have one. Then give each student one piece of string, and challenge each student to find the other student who has a string of the same length. After students find their matches, they can take turns introducing themselves to one another. You can provide a list of questions to help students "break the ice," or students can come up with their own. You might extend the activity by having each student introduce his or her partner to the class.
      Stacy Moore, Garrison Mill Elementary School, Marietta, Georgia
Animal Groups
On the first day of school, gather all the students from a grade level in a large common area. Give each student a slip of paper with the name of an animal on it. Then give students instructions for the activity: They must locate the other members of their animal group by imitating that animal's sound only. No talking is allowed. The students might hesitate initially, but that hesitation soon gives way to a cacophony of sound as the kids moo, snort, and giggle their way into groups. The end result is that students have found their way into their homerooms or advisory groups for the school year, and the initial barriers to good teamwork have already been broken.
      Donna Morgan, Avery Middle School, Newland, North Carolina
A Tangled Web
Gather students in a circle sitting around you on the floor. Hold a large ball of yarn. Start by telling the students something about yourself. Then roll the ball of yarn to a student without letting go of the end of the yarn. The student who gets the ball of yarn tells his or her name and something good about himself or herself. Then the student rolls the yarn to somebody else, holding on to the strand of yarn. Soon students have created a giant web. After everyone has spoken, you and all the students stand up, continuing to hold the yarn. Start a discussion of how this activity relates to the idea of teamwork — for example, the students need to work together and not let others down. To drive home your point about teamwork, have one student drop his or her strand of yarn; that will demonstrate to students how the web weakens if the class isn't working together.
      Amy Henning, W. C. Petty School, Antioch, Illinois
Student Dictionary
Write five questions on the board. Questions might include the following:
What is your name?
Where were you born?
How many brothers or sisters do you have?
What are their names?
Do you have any pets?
Tell students to write those questions on a piece of paper and to add to that paper five more questions they could ask someone they don't know. Pair students, and have each student interview his or her partner and record the responses. Then have each student use the interview responses to write a "dictionary definition" of his or her partner to include in a Student Dictionary. You might model this activity by creating a sample dictionary definition about yourself. For example:
Reynolds, Kim. proper noun. 1. Born in Riverside, California. 2. No brothers or sisters.
Have students bring in small pictures of themselves to paste next to their entries in the Student Dictionary. Bind the definitions into a book, and display it at back-to-school night.
      Kim Reynolds, Warwick Elementary School, Fremont, California
Classmate Scavenger Hunt
Provide each student with two index cards. Ask each student to write a brief description of his or her physical characteristics on one index card and his or her name on the other. Physical characteristics usually do not include clothing, but if you teach the primary grades, you might allow students to include clothing in their descriptions. Put all the physical characteristic index cards in a shoe box, mix them up, and distribute one card to each student, making sure that no student gets his or her own card. Give students ten minutes to search for the person who fits the description on the card they hold. There is no talking during this activity, but students can walk around the room. At the end of the activity, tell students to write on the card the name of the student who best matches the description. Then have students share their results. How many students guessed correctly?
      Patricia McHugh, John W. Raper Elementary School, Cleveland, Ohio
Cooperative Musical Chairs
This activity is a takeoff on the familiar musical chairs game. Set up a circle of chairs with one less chair than the number of students in the class. Play music as the students circle around the chairs. When the music stops, the students must sit in a seat. Unlike the traditional game, the person without a seat is not out. Instead, someone must make room for that person. Then remove another seat and start the music again. The kids end up on one another's laps and sharing chairs! You can play this game outside, and you can end it whenever you wish. Afterward, stress the teamwork and cooperation the game took, and how students needed to accept one another to be successful. Reinforce that idea by repeating this game throughout the year.
      Danielle Weston, Willard School, Sanford, Maine
Hands-On Activity
Have students begin this activity by listing at least 25 words that describe them and the things they like. No sentences allowed, just words! Then ask each student to use a dark pen to trace the pattern of his or her hand with the fingers spread apart. Provide another sheet of paper that the student can place on top of the tracing. Because the tracing was done with a dark pen, the outline should be visible on the sheet below. Direct students to use the outlines as guides and to write their words around it. Provide students a variety of different colored pencils or markers to use as they write. Then invite students to share their work with the class. They might cut out the hand outlines and mount them on construction paper so you can display the hands for open house. Challenge each parent to identify his or her child's hand.
      Veronica Coker, Lanesville Elementary School, Lanesville, Indiana
Chain Gang
Begin by asking students "Who can do something really well?" After a brief discussion about some of the students' talents, pass out paper and ask students to write down five things they do well. Then provide each student with five different-colored paper strips. Have each student write a different talent on separate paper strips, then create a mini paper chain with the strips by linking the five talents together. As students complete their mini chains, use extra strips of paper to link the mini chains together to create one long class chain. Have students stand and hold the growing chain as you link the pieces together. Once the entire chain is constructed and linked, lead a discussion about what the chain demonstrates — for example, all the students have talents; all the students have things they do well; together, the students have many talents; if they work together, classmates can accomplish anything; the class is stronger when students work together than when individual students work on their own. Hang the chain in the room as a constant reminder to students of the talents they possess and the benefits of teamwork.
      Kimberlee Woodward, substitute teacher, Waterford, Michigan
Silhouette Collage
Stock up on old magazines. Your school librarian might have a discard pile you can draw from. Invite students to search through the magazines for pictures, words, or anything else that might be used to describe them. Then use an overhead projector or another source of bright light to create a silhouette of each student's profile; have each student sit in front of the light source as you or another student traces the outline of the silhouette on a sheet of 11- by 17-inch paper taped to the wall. Have students cut out their silhouettes, then fill them with a collage of pictures and words that express their identity. Then give each student an opportunity to share his or her silhouette with the group and talk about why he or she chose some of the elements in the collage. Post the silhouettes to create a sense of "our homeroom."
      Kathy Juarez, Piner High School, Santa Rosa, California
Headlines
As part of the normal first-day routine, many teachers have each student fill out a card with such information as name, address, phone number, parents' names and work numbers, and so on. You can use such cards to gather other information too, such as school schedule, why the student signed up for the class, whether the student has a part-time job, and whether he or she has access to the Internet at home. As a final bit of information, ask the student to write a headline that best describes him or her! This headline might be a quote, a familiar expression, or anything else. When students finish filling out the cards, give a little quiz. Ask students to number a sheet of paper from 1 to __, depending on how many students are in the class. Then read aloud the headlines one at a time. Ask students to write the name of the person they think each headline best describes. Who got the highest score?
Bonus! It seems as if parents are contacted only if there is a problem with students. At the end of each grading period, use the home address information to send a postcard to a handful of parents to inform them about how well their child is doing. This might take a little time, but it is greatly appreciated!
      Dawn Walters, White House High School, White House, Tennessee
More Quick Getting-To-Know-You Activities
Following are a few more activity ideas that were sent our way:
Pop Quiz
Ahead of time, write a series of getting-to-know-you questions on slips of paper — one question to a slip. You can repeat some of the questions. Then fold up the slips, and tuck each slip inside a different balloon. Blow up the balloons. Give each student a balloon, and let students take turns popping their balloons and answering the questions inside.
      Contributor Unknown
Fact or Fib?
This is a good activity for determining your students' note-taking abilities. Tell students that you are going to share some information about yourself. They'll learn about some of your background, hobbies, and interests from the 60-second oral "biography" that you will present. Suggest that students take notes; as you speak, they should record what they think are the most important facts you share. When you finish your presentation, tell students that you are going to tell five things about yourself. Four of your statements should tell things that are true and that were part of your presentation; one of the five statements is a total fib. This activity is most fun if some of the true facts are some of the most surprising things about you and if the "fib" sounds like something that could very well be true. Tell students they may refer to their notes to tell which statement is the fib. Next, invite each student to create a biography and a list of five statements — four facts and one fib — about himself or herself. Then provide each student a chance to present the 60-second oral biography and to test the others' note-taking abilities by presenting his or her own "fact or fib quiz." You can have students do this part of the activity in small groups.
      Mitzi Geffen
Circular Fact or Fib?
Here's a variation on the previous activity: Organize students into two groups of equal size. One group forms a circle equally spaced around the perimeter of the classroom. There will be quite a bit of space between students. The other group of students forms a circle inside the first circle; each student faces one of the students in the first group. Give the facing pairs of students two minutes to share their 60-second oral "biographies." While each student is talking, the partner takes notes. After each pair completes the activity, the students on the inside circle move clockwise to face the next student in the outer circle. Students in the outer circle remain stationary throughout the activity. When all students have had an opportunity to share their biographies with one another, ask students to take turns each sharing facts and fibs with the class. The other students refer to their notes or try to recall which fact is really a fib.
      Contributor Unknown
People Poems
Have each child use the letters in his or her name to create an acrostic poem. For example, Bill could write
Big
Intelligent
Laughing
Loving.
Tell students they must include words that tell something about themselves — for example, something they like to do or a personality or physical trait. Invite students to share their poems with the class. This activity is a fun one that enables you to learn how your students view themselves. Allow older students to use a dictionary or thesaurus. You might also vary the number of words for each letter, according to the students' grade levels.
      Bill Laubenberg
Another Poetic Introduction.
Ask students to use the form below to create poems that describe them.
Name ______________________
Title (of poem)_______________
I will never _______________,
I will never ________________,
and I will never ______________.
I will always ______________.
This activity lends itself to being done at the beginning of the school year and again at the end of the year. You and your students will have fun comparing their responses and seeing how the students and the responses have changed.
      Contributor Unknown
Food for Thought
To get to know students and to help them get to know one another, have each student state his or her name and a favorite food that begins with the same first letter as the name. For example: "Hi, my name is Latrece, and I like liver." As each student introduces himself or herself, he or she must repeat the names and favorite foods of the students who came before. Watch out — it gets tricky for the last person who has to recite all the names and foods!
      Latrece Hughes
I Am NOT!
Here's a challenging activity that might help high school teachers learn about students' abilities to think critically. Send students into the school hallways or schoolyard, and ask each to find something that "is completely the opposite of yourself." Option: To widen the area to be explored, provide this activity as homework on the first night of school. When students bring their items back to class, ask each to describe why the item is not like him or her. You'll get a lot of flowers, of course, and students will describe how those flowers are fragrant or soft or otherwise unlike themselves. But you might also get some clever responses, such as the one from a young man who brought in the flip-top from a discarded can; he talked about its decaying outward appearance and its inability to serve a purpose without being manipulated by some other force (and how he was able to serve a purpose on his own).
      Joy Ross
Personal Boxes
In this activity, each student selects a container of a reasonable size that represents some aspect of his or her personality or personal interests, such as a football helmet or a saucepan. Ask students to fill that object with other items that represent themselves — for example, family photos, CDs, dirty socks, a ballet shoe — and bring their containers back to school. Students can use the objects in the containers as props for three-minute presentations about themselves. The teacher who provided this idea suggests that you model the activity and encourage creativity by going first — it's important for students to see you as human too! She included in her container a wooden spoon because she loves to cook, a jar of dirt because she loves to garden, her son's first cowboy boot, a poem she wrote, a rock from Italy because she loves to travel, and so on. You'll learn much about each student with this activity, and it will create a bond among students. As each student gives a presentation, you might write a brief thank-you note that mentions something specific about the presentation so that each student can take home a special note to share with parents. It might take a few days to give every student the opportunity to share.
      Valerie Braun
More Classroom Icebreaker Activities
Volume 1: Tell Me About You Activities
Volume 7: Getting to Know One Another
Volume 2: 14 Activities for the First Days of School
Volume 8: Who's in the Classroom?
Volume 3: Engaging Activities for the First Days of School
Volume 9: My Classmates and Me
Volume 4: Activities for the First Day of School
Volume 10: Back-to-School Activities
Volume 5: All-About-You Activities for the First Days of School
Volume 11: More Fresh Ideas for Opening Day
Volume 6: Get to Know Your Classmates Activities
Volume 12: Excellent Activities for Getting Students Warmed Up
 
Education World®
Copyright © 2011, 2017 Education World
Last updated on 07/17/2017
Icebreakers Volume 5: Getting To Know You Activities | Ice Breakers | First Day of School Activities

August Every-Day Edits
Use Every-Day Edits to build language skills, test scores, and cultural literacy. Be sure to see our tips for using Every-Day Edits in your classroom.
Anne FrankColumbus Sets SailI Love Lucy "I Have a Dream" SpeechEderle Swims English ChannelHiroshima BombingVoting Rights Act of 1965First Picture from SpacePresident Nixon ResignsElvis PresleyOgden Nash's Humorous VerseHawaii, America's 50th StateWomen Get to VoteMother TeresaFirst White House BabyEastern Earthquake
 
Looking for ideas for using Every-Day Edits in your classroom? See our idea file.
Run out of Every-Day Edit activities for the month of August? Check out our Xtra activities for any time of year.
DIY Summer Professional Development
During the school year, teachers are master balancers. In addition to the daily diet of rigorous academic content and classroom management, colorful sticky notes and intricate calendars remind us of pending tasks. Conferences next week! Make parent phone calls! Prep for Friday PLC! With all the hubbub, it can be overwhelming to tackle a large project or learn a new skill.
Fortunately, summer offers a slightly slower pace that's perfect for tackling serious professional development. Conferences and seminars give you access to experts but they're not your only option. If you're looking for a more customized plan, here are a few ideas to get you started on your own DIY summer professional development.
Tap Into Local Resources
Students love when we make lessons come alive with a tactile artifact or a perfectly timed field trip. Take time this summer to connect with local resources that can expand your lessons beyond the textbook. Start by making a quick list of local museums, aquariums, or zoos you want to visit and what collections might connect with your academic goals. Most institutions have an educational coordinator who can help you brainstorm the best way to access museum resources, direct you to field trip grants, or discuss increasingly popular "backwards field trips". Even if you can't fit a field trip into your curriculum, museum visits may yield helpful access to primary source documents.
Think beyond admission-charging institutions. Universities and historical societies often have impressive artifact collections and archives available to the public. Businesses and camps are another out-of-the-box option. Maybe a local yoga studio has resources on building kids' social emotional skills. When 5th graders at my school studied ecosystems, we followed up with a trip to a local camp to see their functioning aquaponics system. Your community is full of educational gems so use the summer to uncover which ones work for you.
Improve Your Tech IQ
Summer professional development is a perfect time to experiment with new technology. If you're already tech savvy, challenge yourself to grab an Echo Pen to prep for recording mini-lessons or set up a green screen to practice for the live history broadcasts you've been wanting to work into your social studies curriculum. If you don't have any new tech tool in mind, check out a compilation list of new Education World's coding class.
Improving your tech IQ doesn't mean you have to choose cutting edge tools. Summer PD is about working on skills new to you. Choose technology challenge that fits your needs. If you've been itching to move homework assignments to Google Classroom, get going! If you keep hearing about engaging classroom websites, start thinking about how you might use one. Whatever technology you decide to focus on, savor the extra time you have to master the basic functions and plan how to implement it in your classroom.
Harness the Web
The internet offers a wealth of free resources for teachers but it usually takes some time to determine which ones will work for your summer development plan. First, figure out what format you're interested in. If you want the weight of a book in your hand, use the web to find curated reading suggestions for teachers. You can plan a trip to your local library based on teacher book lists on everything from classroom differentiation to learning innovation. If audio is more your beat, download a podcast app and learn from teachers, psychologists, and other school-based professionals. I like the Harvard EdCast for up-to-date interviews with education experts and authors. For conversation and connection, participate in Twitter ed chats. Many professional organizations host and publicize their own or you can use this spreadsheet to find one that works for you.
Make It Your Own
Whatever combination of reading, visiting, or Tweeting you decide upon, make it your own. Part of being a teacher leader is prioritizing growth. This summer, design a professional development plan that's perfect for your needs.
Written by Marissa King
Marissa teaches 5th grade at Tulsa Public Schools where she spills tea and misuses the coolest slang. She is also a Yale National Fellow.
DIY Summer Professional Development

Back to Top
75 Mill St. Colchester, CT 06415
Receive timely lesson ideas and PD tips
Receive timely lesson ideas and PD tips



Sitemap
Close Sitemap
About Us
Contact Us
Help Center
Advertise
Reprint Rights
Privacy Policy

Lesson Plans

Article Archive
Box Cars Math Games
Every-Day Edits
Five-Minute Fillers
Holiday Lessons
Learning Games
Lesson of the Day
News for Kids
Show-Biz Science
Work Sheet Library

Professional Development

Clip Art Gallery
Math Corner
New Teacher Advisor
Reader's Theater
Reading Coach
Responsive Classroom
Strategies That Work
Teacher Feature
Voice of Experience
Web Site Reviews

Technology

The Math Machine
The Reading Machine
The Science Machine
Online Safety
Sites to See
WebQuest
Technology Experts
Tech Team
Using Technology
Keyboarding
Techtorials
Wire Side Chats
On the Internet

Administrators

How I Handled…
Wire Side Chats
Partners for Student Success
Principal Profiles
Principal Toolbox
Parent Involvement
Programs
Goals
Best Books for School Leaders
Exceptional Events
Great Meetings
Instant Meetings
Morning Math

School Resources

Career Center
Classroom Management
Early Childhood Channel
Ed World's Columnist Team
Site Reviews for Educators
State/Nat'l Education Standards
Subjects & Specialties
Substitute Teacher Resources
Teacher-Submitted Lesson Plans

Specialties

Counseling
Early Childhood
Preservice Ed
Special Ed
Sub Station
Vocational Ed

Subject Resources

The Arts
Foreign Languages
History
Language, Literature
Math
PE and Health
Science
Social Sciences
Technology

Fun Activities

Animals A-Z Edits
Box Cars Math Games
Every-Day Edits
Fact Monster Hunts
Five-Minute Fillers
Friday Fun Ideas

Education World @ Home

Ed

[email protected]

for Parents
Ed

[email protected]

for Students

Lifestyle

Early Childhood

Castaldo's Corner Activities
Early Childhood Activity Bank

 


Sign up for our free weekly newsletter and receive
top education news, lesson ideas, teaching tips and more!
No thanks, I don't need to stay current on what works in education!



COPYRIGHT 1996-2016 BY EDUCATION WORLD, INC. ALL RIGHTS RESERVED.
COPYRIGHT 1996 – 2018 BY EDUCATION WORLD, INC. ALL RIGHTS RESERVED.
SchoolNotes.com
The Educators Network
75 Mill Street, Colchester, CT 06415